The Success of RetailMeNot: How iSEEQ created and improved Facebook presence of retailmenot and how it increased leads conversions to more than 85%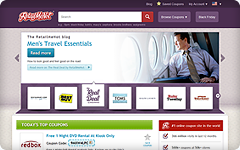 Business type: Consumer retailing, coupons & promotional codes
Client Background: Top consumer destination for collaborative coupons, deals and promotional codes.
Objective: To increase its presence in social media and conversion of these contacts to loyal customers.
Methodology: Complete social media strategy, marketing and online community management.
Result: Site's community has shared millions of deals at more than 140,000 top retailers in last 5 years.
Effective Social Presence
"The most impressive aspects of iSEEQ team is their vast deep knowledge in all areas of marketing and advertising. Thanks to the team's hands on approach, we made our debut in social media and managed to have our first facebook promotion. iSEEQ social Marketing has increased our revenue many folds."
Iryna
Owner, Simpleart
---
Social Marketing at its best
"iSEEQ assisted me in marketing my website in social media platforms. The result was obvious in few months when I started getting customers via my posts and blogs. The traffic to my website also increased dramatically. Sales increase was an astonishing 115% increase. Great marketing tactics"
Samuel
Owner, Emerson Group