The Success of Morrisandersonlaw: How iSEEQ generated 20 times more leads for Morris Anderson Law and made a 900% more leads turnaround with effective lead generation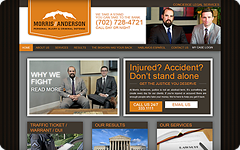 Business type: Law Firm
Client Background: Represents businesses and individuals in complex commercial litigation and high-stakes personal injury claims.
Objective: To increase amount of leads and conversion of these leads to loyal customers.
Methodology: Complete redesign of the website, adapted to make it user friendly & optimizes it to lead generation process, market research and new marketing strategy
Result: Average signup improved from 80 to 750 sign ups per day and direct email requests from 11 to 450 request per day. That is a 900% and 1272% increase.