The Success of braindumps: How iSEEQ helped it increase visibility and traffic and generated 20 times more leads with effective link building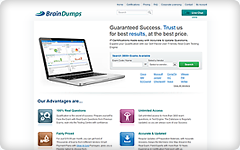 Business type: IT exams portal
Client Background: Experienced in more than 10 years in IT exam preparation material
Objective: To increase traffic and visibility with quality link building
Methodology: Completely new approach to quality link building, with article submissions, forum posting and publications as main tools to increase quality links to 30 per month
Result: Traffic increase of 300%, improved from 80 to 750 sign ups per day and direct email requests from 11 to 450 requests per day. That is a 900% and 1272% increase.
The Right Back links did the trick
"I decided to use the link building services of iSEEQ when things were rather bad with the lead and traffic generation scenario of my website. In few months, I could see the results with quality back links and much better traffic and eventually converted leads. Now I am relying on iSEEQ team for my SEO and lead conversions and they are yet to disappoint me even once. Great team."
S. Spencer, Spanishprograms
---
The whole link building package
I am related to the IT sphere for more than 15 years and so I recognize good results. Our overall traffic is consistently up over 30% month to month and we've started to rank in the top 5 for many of the popular keywords that we have targeted. The quality of the links that are being built by iSEEQ is second to none. I highly recommend them for this good result
B. Foster, NLPtech