The Success of smallseotools: How iSEEQ helped achieve top position in google search engine & generated 20 times more leads for Duplichecker effective lead generation & conversion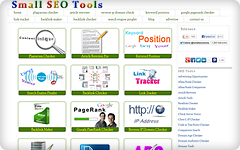 Business type: Online Seo tools
Client Background: Effective tool for SEO management
Objective: To achieve top search position in Google search engine with keyword Backlink Maker, Article Rewriter, Keyword Position
Methodology: Complete redesign of the website, adapted to make it user friendly & optimizes it to lead generation process, market & Keyword research and new marketing strategy
Result: Top position in Goggle search engine. Average signup improved from 80 to 750 sign ups per day and direct email requests from 11 to 450 requests per day. That is a 900% and 1272% increase.
Efficient SEO Management
"I used SEO services offered by iSEEQ for my website Simpleart, and their promise of getting top postion in google proved to be true in six months. The optimized SEO process has increased my leads conversion to by 124% which is a good improvement in my field of interest."
Mark, Testking
---
Social Marketing at its best
"iSEEQ has done a great job of building links which has successfully managed to get our website Leather4sure top rankings in major search engines. In all of our major keywords we rank in the top 10 and are getting good organic response. An increase of 475% in traffic and conversion is worth praising."
Sherry, Leather4Sure