The Success of braindumps: How iSEEQ helped it increase visibility and traffic and generated 20 times more leads with effective link building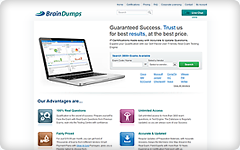 Business type: IT exams portal
Client Background: Experienced in more than 10 years in IT exam preparation material
Objective: To increase traffic and visibility with quality link building
Methodology: Completely new approach to quality link building, with article submissions, forum posting and publications as main tools to increase quality links to 30 per month
Result: Traffic increase of 300%, improved from 80 to 750 sign ups per day and direct email requests from 11 to 450 requests per day. That is a 900% and 1272% increase.
Every click is precious now
"We appreciate the efforts of iSEEQ in improving our organic positioning within the major search engines, who managed our Pay-Per-Click campaign. We have been thoroughly impressed with their knowledge, service and execution throughout the entire process. iSEEQ has become a valued partner in achieving both our short and long-term web marketing objectives."
B.Foster, Damac
---
PPC worked wonders for my website
"The best thing that I can say about iSEEQ is in my results. I went from spending 10+ hours a week managing my campaigns to less than 1, and my sales volume continues to increase with their help in reaching more prospects. I am now able to focus on creating new products, knowing that new customers will be coming in without my attention."
Harris, IKON